WOPHA 2021: A Diary by CYJO – Day 2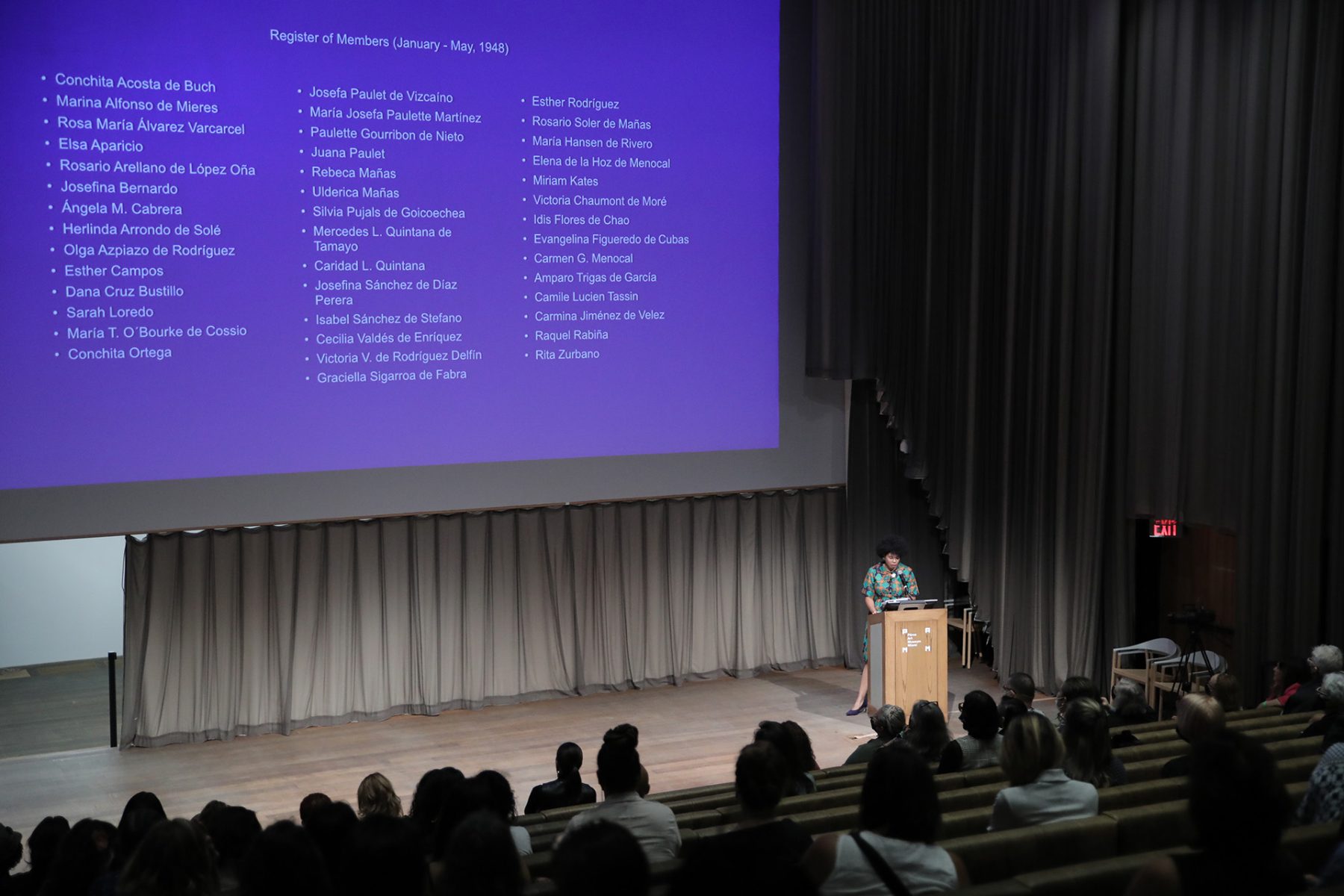 Enveloped by the morning sun and with a strong, black coffee in hand, I began the day prepping for my conversation with Aldeide Delgado. She is a Cuban-born, Miami-based historian and curator who in 2018 founded the Women Photographers International Archive (WOPHA), a nonprofit organization. She has made an impact recognizing women photographers and their work, especially those from the Caribbean. WOPHA has collaborated with many organizations and platforms including 1854 Media, publishers of the British Journal of Photography. And WOPHA's book, Becoming Sisters: Women Photography Collectives & Organizations, co-edited by herself and Ana Clara Silva, was recently published in tandem with the launch of their first congress. What she has been able to achieve within her time working in the professional field to date is nothing short of impressive, where her work can be felt pulsing beyond the veins of this city.
After recently attending WOPHA's first 2-day congress held this November, "Women, Photography, and Feminisms" at the Pérez Art Museum Miami (PAMM) – a milestone she and her team had accomplished – we met up through zoom to look back on the congress and learn more about WOPHA and her work.
CYJO: Can you talk about WOPHA and how it started?
Aldeide Delgado: I founded WOPHA five years after working on a Catalogue of Cuban Women Photographers, the first survey of Cuban photography history highlighting women's contributions from the nineteenth century to the present. It's the first comprehensive approach to Cuban photographic history from a feminist perspective. When this project began in 2013, I was studying art history at the University of Havana and found some major problems. First, the publications that covered Cuban photography were very outdated. Photography wasn't included in the curriculum of art history. And considering how important photography was in the development and promotion of propagandistic ideas, especially in the 60s and 70s, it was crucial to create a project that reframed that discourse from the perspective of women. I saw this catalog, which centered on the unprecedented discussion of feminism, as a radical act in the Cuban context.
CYJO: I can imagine the challenges you may have had creating this catalog.
AD: Most of the research was done by going through the archive, and trying to find out how photography circulated in specific moments. Looking through the newspapers and magazines, trying to find information on women photographers was not easy because it was unknown. In the beginning, people told me "Why are you doing a catalog on Cuban women photographers? There aren't any. And if there are, they're no good." From that perspective, my work became a quiet, activist practice that challenged this notion. I decided to create this research from the 19th century, specifically from 1853 where the first woman photographer in Cuba was publicly recognized, Encarnación Iróstegui.
The plan originally was to create a physical book, but in the process of my research, which included studio visits and meeting artists who were not exhibiting their work, I noticed the lack of opportunities that women photographers have. So, I created an online platform for the catalog that could serve as a place of reference for other artists, historians, and curators to find information about women in photography. And this could be revised when needed.
WOPHA emerged after moving to Miami in 2016. I started to adapt to a new society and context in a moment where you don't feel 100 percent Cuban but you are not 100 percent American either, even though you have your documentation and passport. From these personal experiences, it made sense to widen the platform to cover artists from the Caribbean, Latin America, and South Florida, but from the history of photography, and from the perspective that considers decolonization, feminism, and this idea of being in a border space.
CYJO: In some circles, "feminism" can feel stigmatized or misunderstood. Can you tell us what it means to you?
AD: When the WOPHA Congress used the word "feminism," it was in plural, not singular in order to recognize the struggles that women have across different contexts. For example, when we think of the suffragist movement, we think of mostly white, middle-class women. And not in all cases were they considering the experiences of racialized women. When I embrace this notion of feminism, I'm doing it from the perspective of many great women like Gloria Anzaldúa. She was a Chicana feminist author who viewed her feminist practice assuming the border (she referred to the border between Mexico and the United States) as a political place in which people from different ethnicities and cultures interact, live together, cross pollinate, and a new consciousness emerges. My understanding of feminisms is also inspired by bell hooks. She's an African American scholar which includes both women and men as part of the conversation. It's about transforming the binary structures that constitute the way in which we approach or understand the world. In the way that we've been taught, there has been a lack of representation for some individuals whose practices have been removed from History. For me, feminism is about bringing all these other stories to life.
But it's not exclusive to women. One of the conversations in the congress was titled "Can men create feminist photography?" Because for me, women can follow the work that we may identify with a male gaze and vice versa. We are not monolithic. It's not about who is behind the camera in the sense of gender or color. It's more about the ideology the person is projecting to the world. For me, this is interesting, I want to problematize that. I stay away from essentialism.
CYJO: What were the highlights from the Congress?
AD: The congress was a dream come true, and there were so many highlights. The panel which covered a major book presentation – A World History of Women Photographers published by Editions Textuel (2020) was one of them. It is in French, but there are plans to translate it into English in the future. The panel included Marie Robert (Head Curator of Photography at the Musée d'Orsay), Luce Lebart (photography historian and curator for the Archive of Modern Conflict collection), and Maria Kapajeva (visual artist), moderated by Ileana Selejan (research fellow at the University of Arts London). In this book, 300 women photographers are recognized, and 160 women authors from around the world contributed, including myself. There was a decentralization to the process of creating this book as many books are given to one author's perspective and research. I wanted to highlight how to create a universe that has this notion of collectivity and collaboration as the protagonists. This was important.
CYJO: Where do you see WOPHA in the future?
AD: I'm planning to schedule the next congress for 2024 when we can present topics as they continue to develop. The workshops, residencies, exhibitions, and collaborations we hold throughout the forthcoming years will help us determine the exact content. The next congress will be a way of taking the temperature on how the field of women in photography is evolving and expanding the vital discourse surrounding the work of women artists.
This interview was originally published at The Eye of Photography by CYJO.
About
CYJO is a Korean American artist based in Miami who works mainly with photography. Since 2004, she has been exploring the evolution of identity, questioning notions of categorization, and further examining our human constructs within her work. CYJO's work has been exhibited nationally and internationally at venues which include The National Portrait Gallery (Smithsonian Institution), Asia Society Texas Center, Venice Architecture Biennale, and Three Shadows Photography Art Centre. Her last solo exhibition was at NYU's Kimmel Windows | Art in Public Places (2019-2020). She is the co-founder of the Creative Destruction, a contemporary art collaborative founded with Timothy Archambault in 2016.
The Eye of Photography is the ultimate digital magazine where everything about photography is published daily, highlighted, discussed, and archived for all professionals and amateurs to see… for free. Whether you are working in this industry as a buyer or a collector, in a festival or a gallery, as a professional, or simply an amateur enthusiast of photography, The Eye was made for you. The Eye informs you of the latest trends, record breaking auctions, breaking news, reveals a long-awaited book publication, shares the discovery of up and coming stars, allows you to read in-depth interviews, and offers all you need to know about the next must see exhibition whether you live in New York, Paris, London, Berlin, Tokyo or Shanghai.